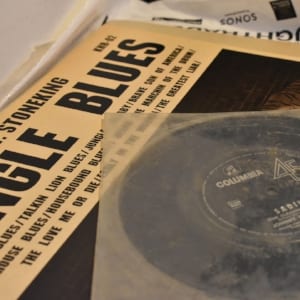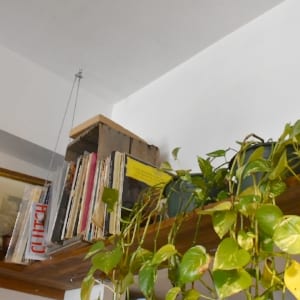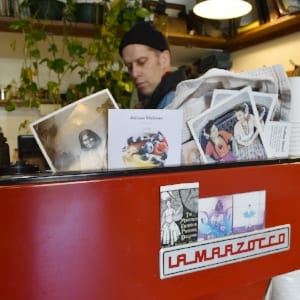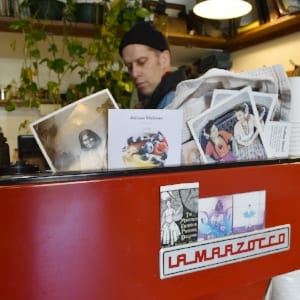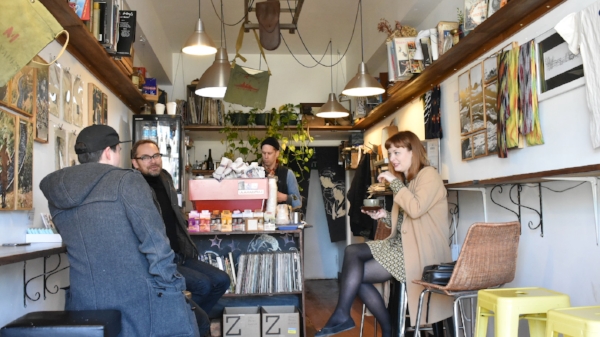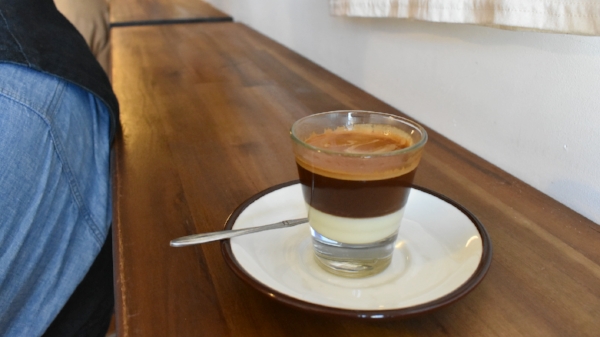 An espresso drinker's vivarium – cultivating art, music, good banter and really, really good coffee.
15.08.17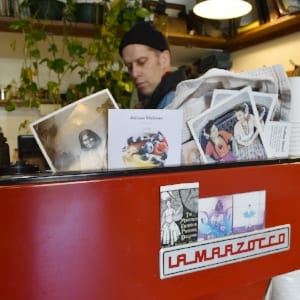 Zest Cafe Profile: Velos Mazeh Musette
Have you heard of a vivarium? The literal Latin translation is "place of life". An enclosed environment; a structure adapted or prepared for keeping animals under semi-natural conditions to observe or study. Step off the street in Mount Eliza, through the hanging planters, past a door sign that reads 'Sorry, we are open', and into Velos Mazeh Musette (VMM for those in the know) and you'll find a vivarium of sorts – for cultured animals, of the espresso drinking persuasion.
Housing books, prints, records and artifacts, VMM celebrates a time when culture and the arts blended perfectly with coffee. The galley-style coffee house, a nod to the classic espresso bars of twentieth century Europe, captures an era when the working class and bohemians congregated freely with bourgeoisie, drinking coffee and discussing poetry, music and politics.
The long, narrow space is fashioned on a particular Italian espresso bar that owner, Sam, fell in love with while traveling in Salerno in the early nineties – basically a 'shed' that would fling open its roller door and prepare coffee for bus drivers at the break of day. It would offer up shelter, espresso and some conversation and little else. Once the morning rush was over, it would pull down the roller door, not opening again until the drivers returned after their shift. Sam remembers this coffee shop and those bygone days fondly. They were simpler times and without romanticising life before the filter-revolution, they were good times. When coffee shops were about espresso and good conversation.
Velos Mazeh Musette has managed to capture that simplicity and then some. VMM does good coffee, plays great records and inspires great conversation – as simple as that.
On any given day in Velos Mazeh Musette you'll find locals perched on stools lining the walls of the slender shop, exchanging jokes, talking art and drinking Sam's specialty, the 'café bombon'. Café Bombon is a Spanish style drink served in an 80mL espresso glass, consisting of one shot of Zest's African Mailman espresso and an equal amount of condensed milk. The drink originated in Valencia, Spain but is served across the globe under many different guises. In Cuba it is known as a 'cortadito', in Thailand, 'kafe ron', Malysia, 'kopi susu panas', and in Mount Eliza – VMM's Bon-Bon.
The bon-bon is a fitting ode to the new recipe African Mailman with its sweet, rich body – an espresso blend we nicknamed 'the dessert coffee' at Zest, given its syrupy mouth-feel and lingering sweet notes. Sam has been using African Mailman since he made the confident switch to Zest Specialty Coffee 3 years ago. And when we changed the recipe last year (to the current, award-winning blend) Sam's customers were not at all disappointed, particularly the black coffee drinkers of whom a few thought perhaps some sugar had been slung in their coffee by accident on account of its sweetness.
Velos Mazeh Musette does a roaring Saturday trade, when Sam sells fresh baked pastries from a local bakery, and the rest of the week hosts a calm chaos of locals, most known by name, trickling in and out. Serving espresso, alternative lattes (chai, turmeric, matcha) and toasted sandwiches daily, the menu is, yep, you guessed it – simple. A one-man-show, Sam likes it that way.
Aside from providing a great soundtrack – a self-professed music addict, the record player is always spinning – VMM's main trade is in takeaway coffee and Sam makes a mean flat white. And he is quick – no one ever waits too long for their brew.
And what of the name? It's an eclectic blend of words drawing on influences from several cultures and languages that all mean something to Sam.
Velos is a phonetic twist on French 'velocite' or Latin 'velocitas' for speed (ahem, espresso baristas, you'll know the importance of this). Mazeh and its various forms originated from a range of languages and generally mean taste. Musette de cour or a baroque musette is like a mini precursor to bagpipes.
Hasty service, good taste and quirky music – that is exactly what you'll find at Velos Mazeh Musette, and more importantly, as the logo states, you can be assured of 'real good coffee' – Perfect.